Our Best Sellers
Take a 👀 at our latest 🤪 creations
Grab Our Mix & Match Box Offer!
12 Homemade Gourmet Fudge Brownies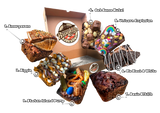 Why Brooklyn Brownie Co?
See what our customers had to say!
Fast, reliable, such a fab product and overall service. After 2 other bakerys let us down Brooklyn Brownie completed our corporate order and delivered on time.
Amazing Brownies, Amazing Service!!
What more do you want?! Finally gave these guys a go for my Dad's Birthday and they did not disappoint! Order two already in for the weekend🎉


These are hands down the best brownies we have ever tried! I love everything about this small business, their work ethic, their values in supporting other small businesses and their brand. Delivery was fast, packaging great and great range of tasty products too.
It was an easy decision to stock the product as it sells itself, we have had customers visit our shop just for the brownies because of their social media presence and the media Brooklyn Brownie supply us to advertise with. 
An individually wrapped product with its own customer fan base, the Brooklyn Brownie product and brand stands out above the rest & helps with customer footfall because it is so recognised.
One of the best brownies we have tried! Super soft! We went for the Biggie Scoff as I am great admirer of caramel, and all I can say is WOW!! They have mixed the flavours of the brownie and the lotus to perfection!

This is a must try for everyone!! 🤤🤤🤤🤤
Awards & Recognition 🏆